Marbella Twin Towers
Marbella Twin Towers New Chandigarh, ULTRA LUXURY ABODES BY MARBELLA…
Marbella is an Exclusive Highrise Residential community that Gives ultra-luxurious flats in New Chandigarh 0km from chandigarh, this you can say easily.
This project is at the most prime location of New Chandigarh and offer us Luxurious Feel in terms of open spaces, specifications, Amenities and elevation. Our project reflects an eco-friendly Environment, well-being and happy living lifestyle.
0 Km From Chandigarh its Best Thing for this Location… & if you are talking about Location Distance for famous Land Marks to Marbella Twin Towers New Chandigarh​
Let Us Contact You For Free Consultation
Marbella Twin Towers, Most Luxurious Highrise Apartments 0km from chandigarh 5 BHK Apartments .
Medi City – Medi city of New Chandigarh has 100 bed Tata Memorial Centre's Homi Bhabha Cancer Hospital and Research Centre which is spread over 50 acres. Stem Cell Centre is also under construction. There is a plan of an affordable Medical College cum Hospital connected to Civil Hospital of Phase VI, Mohali. Some Organic Farms are also located in the city.
Tourism – The Oberoi Sukhvilas Resort & Spa is a 7 star luxury resort located at Palanpur village near New Chandigarh. Shaheed Dr. Diwan Singh Kalepani Museum is also located nearby. Siswan forest range is a major ecotourism area which consists Leopard safari and forest trek. There are theatre plays in the city.
Sports – Race Across America qualifier Shivalik Signature 2018, a 615 km (382 mi) long cycling race event was held in New Chandigarh. Also there is 38000 capacity Mullanpur International Cricket Stadium under construction.
The Lake – There is plan for artificial lake on the lines of Sukhna Lake for natural flow of rivulet in the city.
Marbella Twin Towers - Location Benefits
PGI Chandigarrh 03Km
Panjab University 03Km
Sector 17 Chandigarh 06km
Narsee Monjee Chandigarh 200 Mtr
Medicity New Chandigarh 2.5 Km
New PCA Cricket Stadium 2.5 Km
The Oberoi Sukhvilas 7 Star Resort 7 Km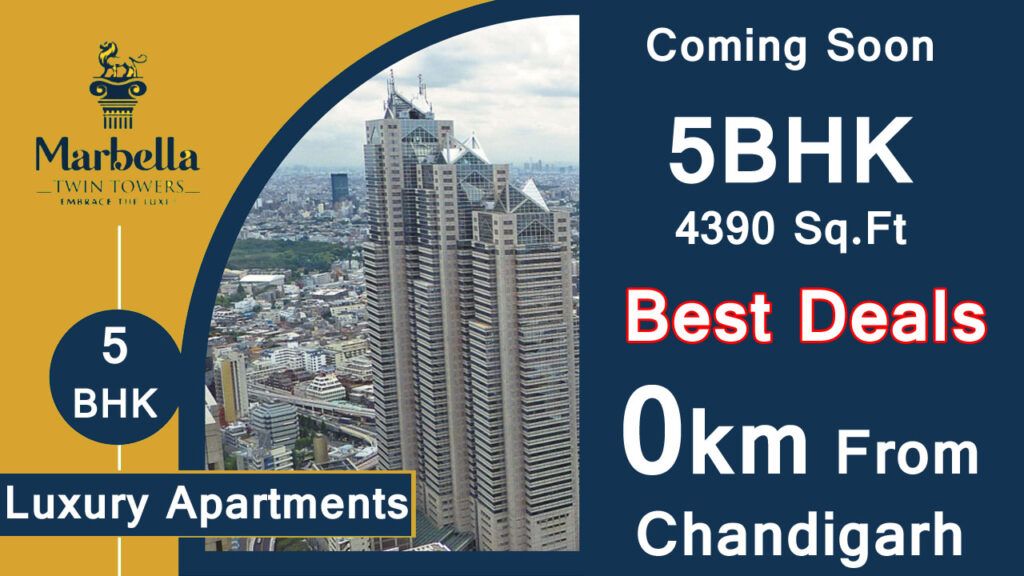 No Reviews