SIGNATURE RETAIL & OFFICE SUITES
First Commercial Project to Offer Long Time Term Lease with Bank Guarantee & One Time Discountof 22.76%
CHANGING THE FACE OF MOHALI
Jubilee Walk, as the name suggests – is a celebration, an experience. A perfect blend of work, play and entertainment, the project is located in the heart of Mohali, a region that is increasingly targeted by number of businesses as it offers rich investment opportunity. Jubilee Walk is urban, chic, vibrant and a versatile place that the region of Mohali has never seen before. It is a flambeau, illuminating a whole new path in commercial sector.
UPPER STREET RETAIL SPACES
GROUND & UPPER GROUND LEVEL
On Himalaya Marg, sector 70- Mohali, Jubilee Walk is the first High street Signature retail & office suites landmark, offering future ready retail, dining & workspaces. The project offers some unique features such as double height lobby for Office Suites, parking space in front of Showrooms & much more that can impress anyone at the very first sight. Jubilee Walk boost of conveniences & unmatched amenities desired by every urban heart.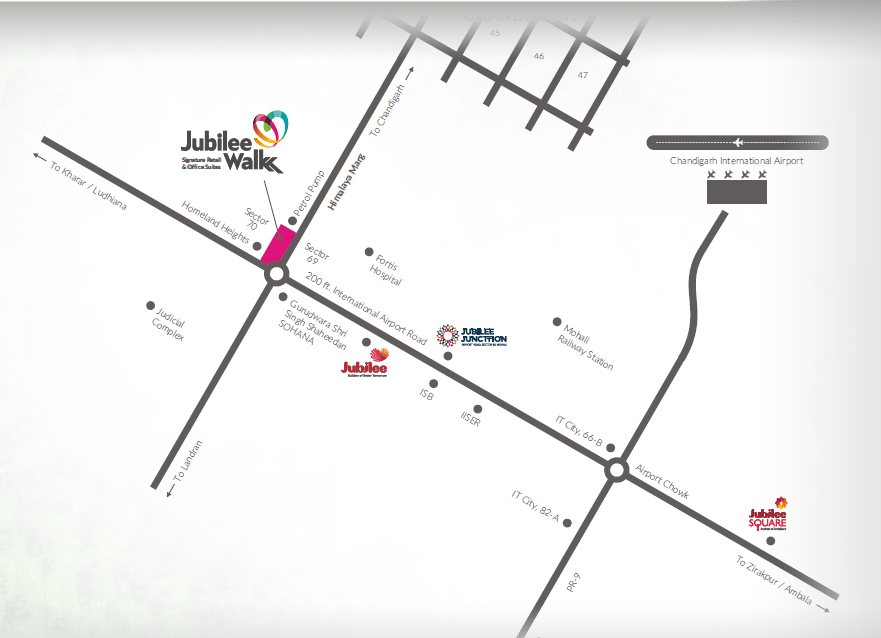 Realtors for Commercial Investment
A place where work, active lifestyle & entertainment are under one roof, Jubilee Walk offers a perfect place to the fast paced generation of today. The iconic commercial address is equipped with swimming pool to suit your personal needs. A well equipped gym will help you continue your daily fitness routine. A luxurious spa at Jubilee Walk has been created to melt the day's stress of office goers and other visitors. Everything being at one place not only provides with convenience but also makes work life better and flexible. Step into an advanced professional and personal life at Jubilee Walk.